All plans come with a free eNom Domain Reseller through Clientexec.
*Free Domain Registration (.COM, .NET, .ORG) only applies on the 1 Year, 2 Year & 3 Year billing cycles.
Experience the HostDash
Reseller Difference
Unlimited Free Website Migrations

Looking to switch from your current hosting provider? Let us save you the headaches and move your website for free!

Proactive Malware Protection

Keep your business and brand reputation securely protected using our constant proactive malware protection that comes free of charge in every plan.

Free Billing Automation Software

Automate your web hosting operations including billing, support, and account provisioning with a free for life Clientexec license.

Our Platform, Your Brand

Run your hosting business under our own brand and logo straight from our platform. Your customers will never know that you are reselling from us.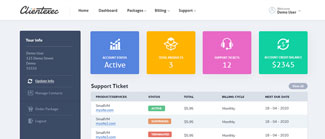 Clientexec Client Area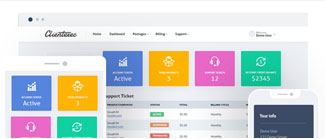 Responsive Client Area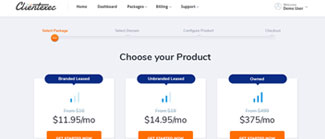 Clientexec Order Form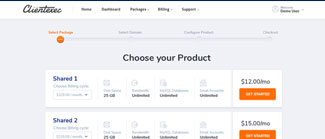 Clientexec Order Form
Automate Your
Web Hosting Company
With Clientexec
We provide you with a superior web hosting automation platform that you can depend on to automate your hosting business instantly. Your reseller plan comes with Clientexec included free of charge. Clientexec provides you with a more streamlined way to run your hosting operations saving you money, time, and resources.
Make Money By Offering
Your Clients Web Hosting
Services
Generate more revenue by giving your customers all the benefits of a high-speed, ultra-reliable and easy-to-use web hosting service all under your own brand. We provide you with all the tools you need to run a thriving web hosting company. You can set your own packages and prices under a 100% white label platform.
Effortlessly Manage
Your Clients
Manage your customers effortlessly in Web Host Manager (WHM). Through WHM, you can easily set up new accounts and install all popular apps such as WordPress instantly. You can optionally give your customers access to their own exclusive website control panel with your branded logo, or manage it for them.
Blazing Fast
Reseller Hosting Platform
We go to great lengths to constantly stay ahead of the competition which in turn, puts you and your customer base ahead of everyone else. To do this, our platform is always undergoing updates to maximize performance wherever possible now featuring AMD EPYC CPUs, LiteSpeed Web Server, SSD/NVMe Drives & more!
Our Platform, Your Brand
Your customers will never know that you are using our reseller services. We give you all the tools you need to customize everything to suit your brand. Your customers will be paying and interacting directly with you. We also have a team of experts ready to handle any technical issue you have any time of day or night. The goal is to help you to provide 100% satisfaction to your customers.
Free No Downtime Reseller Migration
Have a existing websites? We will remove the headaches of moving to HostDash for you!
Get Started Now
1

Create Your Reseller Order

Choose your desired reseller hosting plan from our website and create an order.

2

Request a Migration

Submit a ticket with our migrations team to initiate your website migration request.

3

Sit Back & Relax

Our team will process your migration request enabling you to sit back and relax.

Welcome to HostDash!

We will notify you once your websites have been successfully migrated & tested.
Have a Question?
We're here to help!
Email Us
Send us an email with your questions and we'll get back to you momentarily.
Send us an Email
Live Chat
Chat live with a member of our sales team to discuss your next project.
Chat with Sales
Submit a Ticket
Chat live with a member of our sales team to discuss your next project.
Submit a ticket