Traffic is the lifeblood of any website. Without an influx of visitors, you won't get conversions, readers, buyers, or attention. There are many ways to increase traffic to your WordPress website, but the most reliable method involves focusing on search engines. That's what we call "organic" traffic, and it can make or break your WordPress site.
If your website appears among the top results of popular searches, it should receive more traffic than you know what to do with. However, getting your site to appear in those positions involves focusing on Search Engine Optimization (SEO) techniques. The more effort you put into SEO, the better results you'll get.
In this article, we'll introduce you to three tips to increase traffic to your WordPress website using SEO. Let's start by talking about keyword planning!
1. Use Keyword Research Tools
A significant part of SEO comes down to choosing which keywords to use in your content (and how you use them). By "keywords", we mean the queries that users make on Google and other search engines.
For example, a search such as "best risotto recipe" could be a good keyword because a lot of people look for it: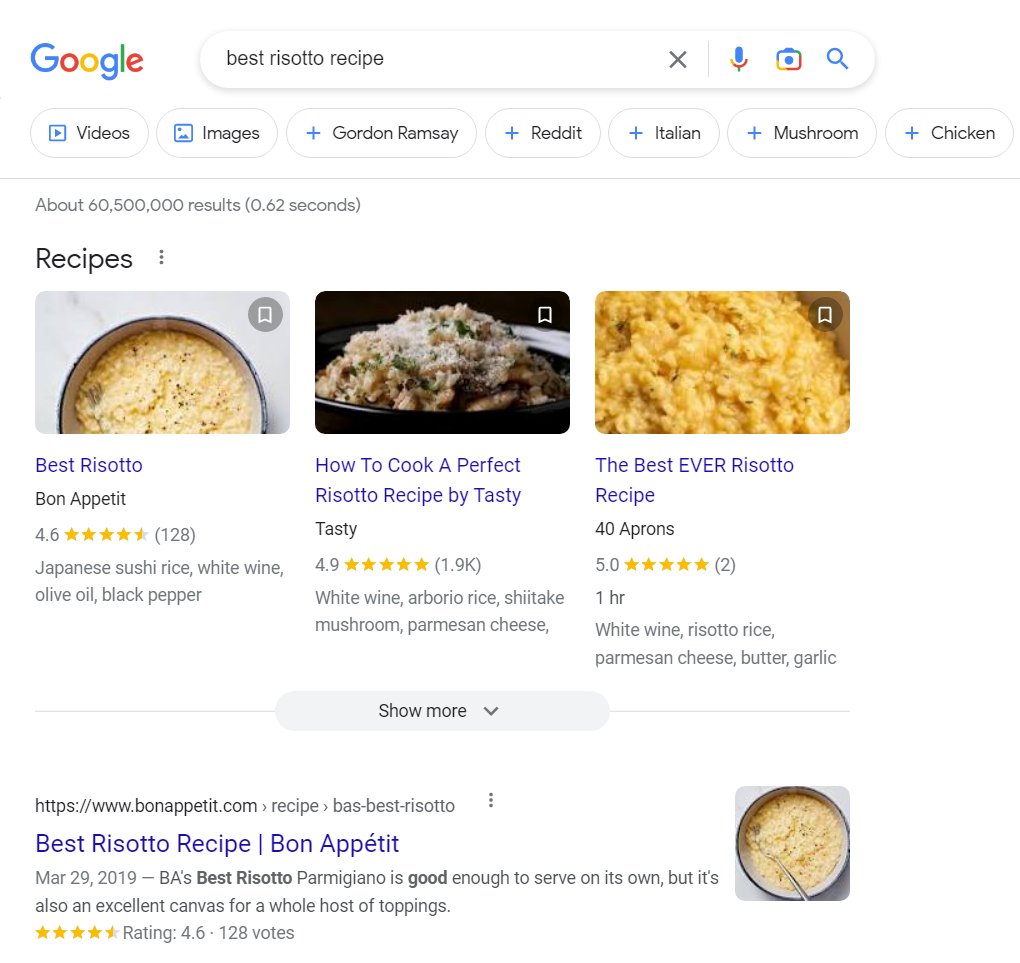 However, you can't rely on intuition alone to tell you which keywords are worth pursuing and which aren't. Even if a keyword is popular, it might be so competitive that a new website with little authority won't be able to rank for it. That rule applies even if you have the best content among your competitors.
Keyword research tools enable you to verify how popular any given keyword is and how difficult it might be to rank for it. You can use this information to decide which search terms are worth pursuing.
For example, Google Keyword Planner tells us the competition for "best risotto recipe" isn't that steep: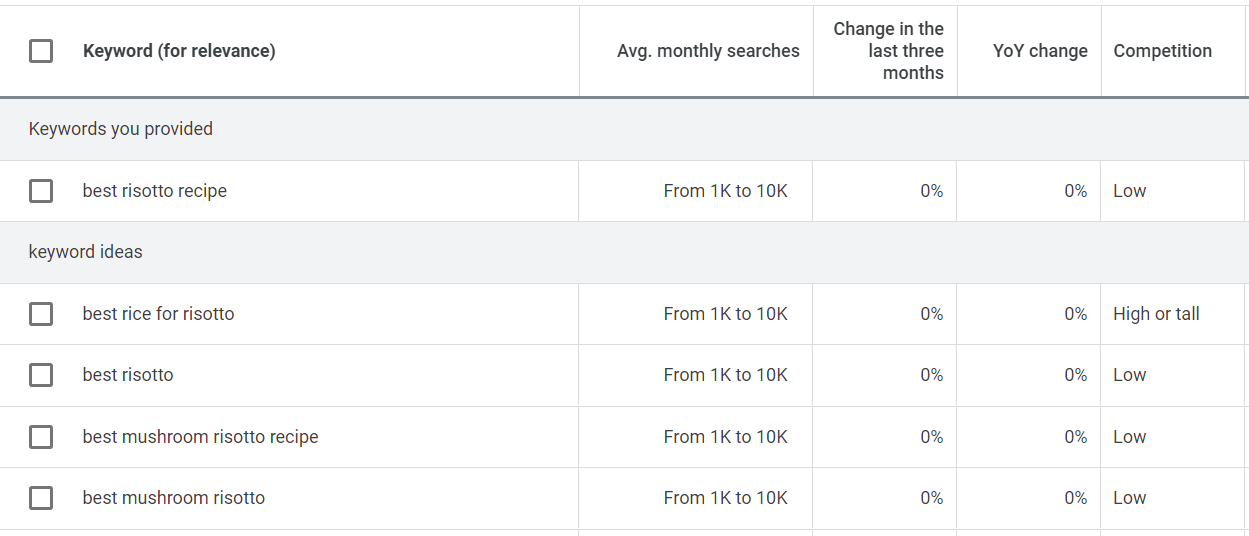 As a rule of thumb, low-competition keywords might not yield that much traffic. However, they're worth pursuing for new websites since they'll enable you to build up authority more easily. As your site grows, you can start to chase more difficult keywords.
Google Keyword Planner is a great option for keyword research since it's free. However, there are a lot of paid tools that offer a higher degree of information, such as Semrush and Ahrefs. Premium keyword research tools tend to cost a lot, though, so they're only worthwhile investments if your website is already making some money.
2. Focus On Evergreen Content
In very broad terms, there are two types of content you can publish on your blog. These are regular articles that become outdated after a while and "evergreen" content. The latter remains relevant over time.
For example, let's say you have a blog article such as "The best WordPress plugins for 2023", like the example you see below. All three of these blog posts are from our archives: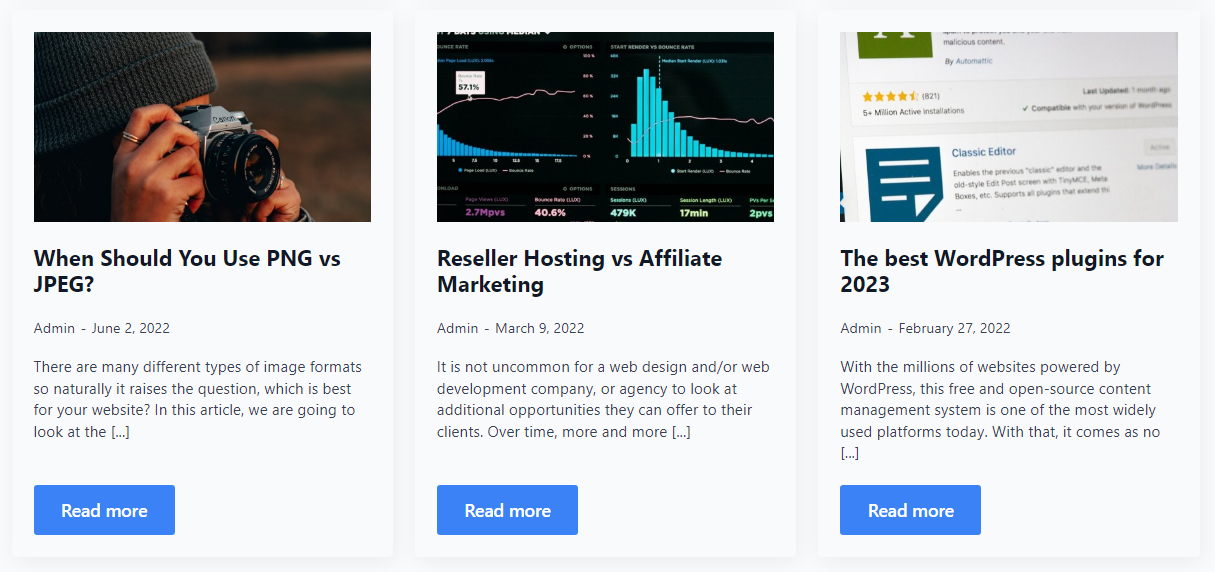 Although that post has the potential to be very popular, when 2024 comes around, you'll either need to update it or write a new one. On the other hand, the two blog posts to the left are perfect examples of evergreen content. After all, the answer to both of those questions will remain the same for years to come.
Evergreen content is one of your best friends when growing a website because it has a longer shelf-life. The more evergreen posts you have, the more traffic you'll get from articles you wrote years ago. All of that traffic compounds over time, and combining it with the visitors you receive from more seasonal and trendy posts makes for a successful site.
3. Use an SEO Plugin
One of the best parts of using WordPress is having access to plugins. These tools can help you enhance your site with almost any feature you want. SEO plugins allow you to identify which parts of your site and its content you should tweak to get better rankings in search engines.
For example, here's one of our favorite SEO plugins called Rank Math and what it shows when you're editing a WordPress post: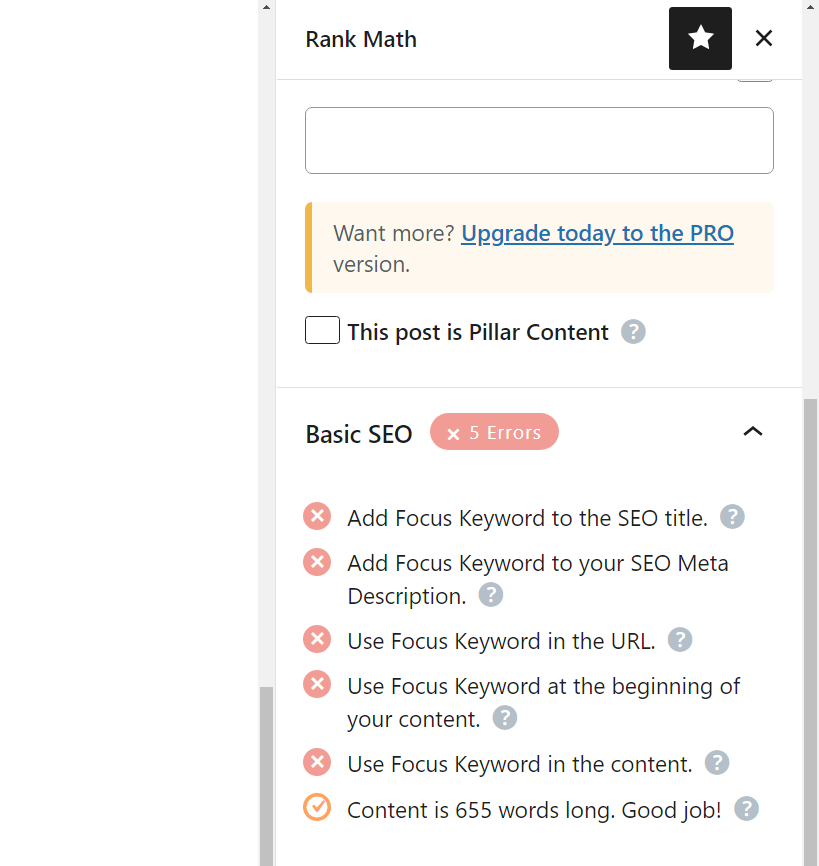 As you write, the plugin gives you pointers on optimizing content following best SEO practices. Following these tips doesn't guarantee your content will appear at the top of the Search Engine Results Pages (SERPs), but it drastically improves your chances.
Rank Math is only one example. You also have other incredibly popular SEO plugins, such as Yoast SEO. That tool will also provide you with a list of SEO insights as you create and edit content: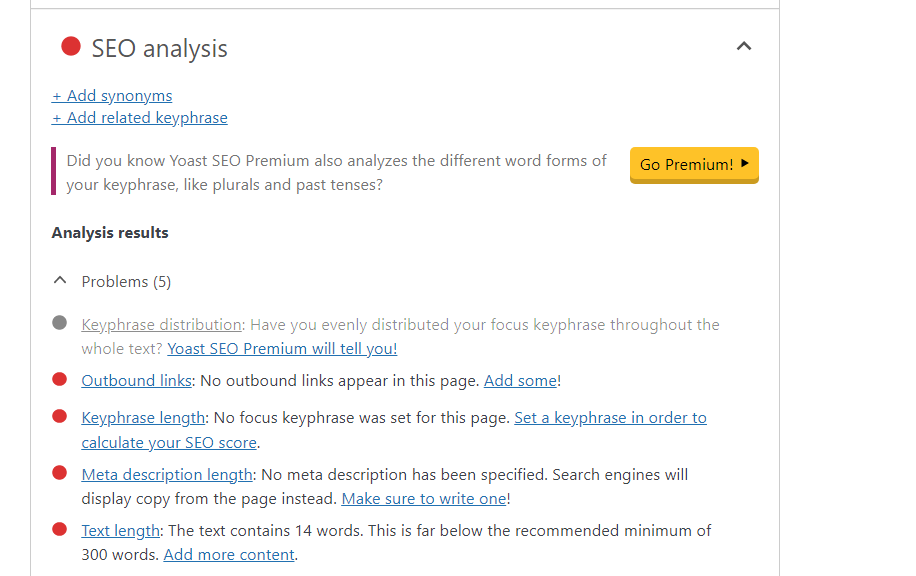 No single WordPress SEO plugin is a perfect fit for every WordPress website. Therefore, we recommend trying some of the most popular options and deciding which one you feel comfortable using. Over time, it will become second nature to follow the tips your chosen plugin provides, meaning your content should consistently rank better.
Conclusion
There are a lot of ways to increase traffic to your WordPress website. However, receiving more organic traffic is, by far, the most cost-effective and scalable method. Building an influx of regular visitors can take time, and you need to learn all about SEO. However, once your website has a decent content library, you should get a steady stream of traffic.
There are a lot of elements to SEO. However, if you're working on a new website, here's what we suggest focusing on:
Use keyword research tools to identify the best search terms for your content.
Focus on evergreen content to attract new visitors far into the future.
Use an SEO plugin and follow its optimization tips.
Do you have any questions about increasing traffic to your WordPress website? Let's talk about them in the comments section below!
Did you find this article helpful?
If you found this article helpful then you will love our support! Get blazing fast Shared Hosting and experience the HostDash difference today!
Check out our web hosting plans today.