After successfully launching your own company you would most likely be looking to expand your audience and reach. A powerful channel to do so would be in the form of business cards. As you may already know, there are plenty of choices out there so naturally it may become difficult to choose the best one.
For that reason, we have put together a list of the most popular business card printing services in 2022 comparing their quality, price, design, and customer satisfaction to help you make the most informed decision.
Why Print Business Cards Online?
You may be wondering, why should you print your business cards online? It is a fair question and can be answered quite easily. The large players in the online business card printing service has invested significant amounts of money and resources to make getting your business card as easy as possible, from start to finish. This includes custom tools to help you easily design your own business card to your exact specifications.
To top the flexibility & creative control, in most cases, ordering your business cards online would result in the full process being completed faster and more easily. You may also find it costs far less to produce your business cards when using the vendors listed below.
With all things considered, you could have as many business cards as you need in your hands within a few days.
The Top 10 Business Printing Services For 2022
1. VistaPrint (Best Overall)
VistaPrint offers a wide variety of online printing services aimed at small to medium sized businesses. VistaPrint can serve as your central go-to source for all of your printing needs from clothes, bags, packaging, stickers, and of course, business cards.
To help you get started, VistaPrint offers a variety of business card designs that you can choose from. You can also provide your own designs if none of their default designs are to your liking.
Don't like their default business card designs and don't have a design of your own? That is not a problem for VistaPrint! You will be able to work with one of their in-house designers to ensure your business cards come out exactly the way you want them.
It is this flexibility and adaptiveness of VistaPrint that makes it earn a top-spot on our leaderboard.
If you have been looking at a variety of small business printing services online you most likely have already come across VistaPrint. They have been around for quite some time and have grown to cover just about all the printing services a small business may need.
By using VistaPrint for your own business cards, you will be able to choose from a variety of materials, paper thickness, and finishes gloss.
VistaPrint Pros
Excellent print quality
Very established brand, been around for many years
Choice of: Business card templates, bring your own design, in-house designers
Very reasonable pricing
Regular promotions including free shipping
VistaPrint Cons
It is almost second nature for VistaPrint to try and upsell you on something, which isn't ideal. However, these can all be declined and as such we firmly believe the pros outweigh the cons.
2. Staples (Best for USA)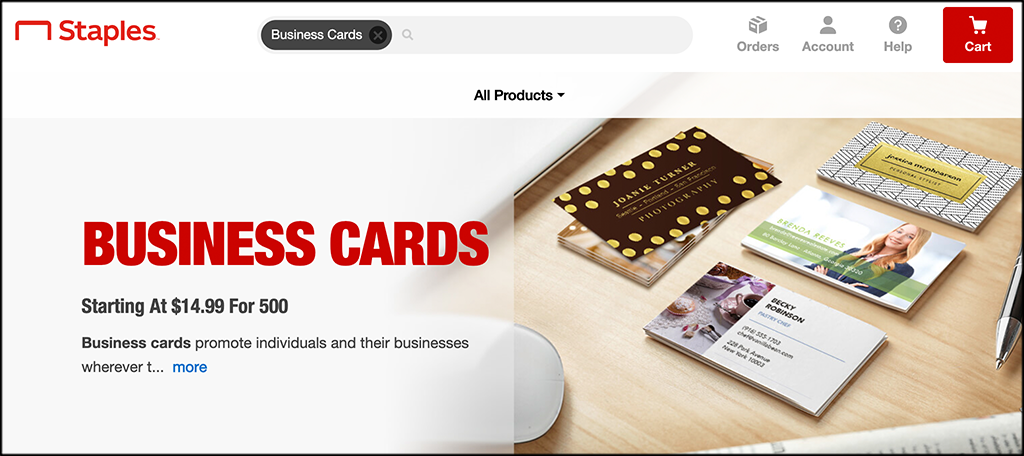 Staples is well known brand and they do a lot of things well. One huge advantage to Staples is their physical presence and network throughout the United States. Their online presence, backed with their physical locations allows you to opt for a 'same day pickup' option meaning your cards can be designed, printed, and in your own hands the very same day.
The Staples business card designer does lean more on the basic side though it should cover most business needs. Of course that also has its advantage, with less complex tools you may find it easier to grasp in order to generate the ultimate business card of your choosing.
If you are based in the Unites States and you need your business cards as early as yesterday, Staples is probably the best fit for you.
Staples Pros
Same day pickup (United States only)
Easier to digest business card design tool
Excellent print quality
Online presence & physical stores
Staples Cons
Fewer default templates for you to choose from
Their key advantages doesn't expand beyond the United States
3. Moo (Best for Customization)

Moo is another highly rated online business card printing service. Moo specializes in providing a significant amount of tools & resources to help you build the best business cards for your small business. To put that into perspective, getting your business cards from Moo will allow you to choose from a number of sizes and shapes such as standard, square, mini, rounded, and many more.
When going with Moo you will be able to use one of their pre-made business card templates, or you can provide your own design. Sadly they do not yet offer the option of an in-house designer or a partner design agency for you to work with.
Pricing of Moo does lean on the more pricer side compared to others on this list though their size and shape variety, as well as their extremely high quality print does make up for it. They also offer lower pricing if you purchase your cards in bulk.
Moo Pros
Wide selection of shapes & sizes
Extremely high quality print
Moo Cons
Pricier than others on this list
4. PsPrint
Note: At this time of writing this PsPrint is experiencing a large influx of orders and staff shortages. As such, the turnaround time has been extended by as much as 3 – 4 days.
PsPrint is a lesser known business card printing service, at least when comparing to the companies referenced above. With that being said, they are popular among their loyal audience given their respectable pricing, easy to use design tools, and their general approach to business card printing services.
PsPrint comes in at the lowest price point of all the other companies referenced throughout this list though don't let that scare you as they have managed to balance cost savings without compromising on quality of the end product, your business cards.
PsPrint sports a top-tier design tool providing you with everything you need to create your very own business cards, yet is laid out in a simplistic form to not overwhelm you.
PsPrint Pros
Easy to use business card designer
Great print quality
Most cost-effective business cards for small businesses
PsPrint Cons
Lacking of tutorials/guides
Time from start to finish temporarily extended 3 – 4 days due to staffing
5. Elite Flyers (Best for Bulk Volume)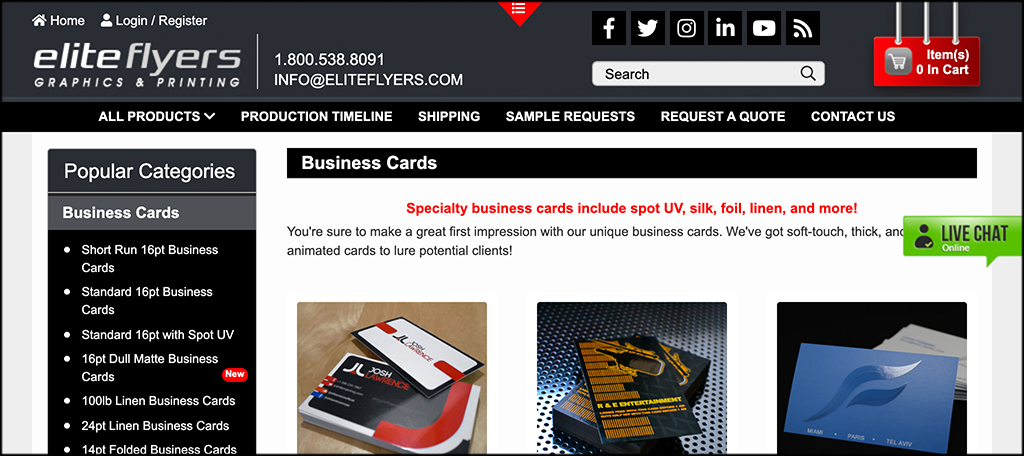 Elite Flyers has the capacity to turn around very large bulk orders within a few days. If you need to purchase a large set of business cards for you, your staff, or an event Elite Flyers will be able to accommodate without sweat.
Their large capacity handling does present a significant disadvantage though. To get started with Elite Flyers, you need to commit to a minimum of 1000 business cards, which at this volume, isn't priced as well as others referenced on this list. However, they can easily accommodate anything up to 25,000 business cards with a 3 – 5 day turnaround time at a much more reasonable per-business card rate.
Elite Flyers Pros
Great turnaround time for large orders (3 – 5 days) for up to 25,000 business cards
Large variety of business card designs, sizes, shapes, and finishes
Great printing quality
Elite Flyers Cons
Minimum purchase of 1000 business cards
Pricing is only reasonable at large volume orders
Do You Need Business Cards?
Business cards can be a vital component to your online business. Especially if you are conducting any offline business such as attending events & conferences. It is a great opportunity to get your name and contact information into the hands of those that can help you grow your own business.
Business Card Conclusion
As you can see from the above list, each vendor has their own pros and cons. You should take your time to evaluate which is best for you, and your business. A lot of the choice will come down to turnaround times, prices, and designing options and all of the above vary in that aspect.
All of those referenced in this list come highly recommended so you are probably safe to go with any of them. If you are stuck between 2 – 3 business card printing services, go to their website and try their business card designer.
With all things considered, you should find you are able to source as many business cards as your business needs within a few days, from start to finish.
Did you find this article helpful?
If you found this article helpful then you will love our support! Get blazing fast Shared Hosting and experience the HostDash difference today!
Check out our web hosting plans today.